From Wednesday 2 December, travellers will be legally permitted to travel abroad from England no matter what tier system they are living in, which means a Christmas spent soaking up some winter sun is now possible. To help you plan, these are some of the best quarantine-free destinations to visit right now
Acting Audience Growth Manager, Aussie in London, lover of sushiThursday 26 November 2020
The second coronavirus lockdown in England ends from Wednesday 2 December, when the UK government will relax its total restriction on non-essential travel and introduce a tier system. There will be no restrictions on travel in the UK or abroad for those living in Tier 1 and Tier 2 areas, while for those living in Tier 3 areas unnecessary travel outside your area will remain illegal.
However, the UK government also announced that it will be legal to travel abroad from England over Christmas for non-essential reasons – specifically between Wednesday 23 December to Sunday 27 December – no matter which tier your local area has been assigned. To clarify: although leaving a Tier 3 area for a non-essential trip is not encouraged, it will no longer be illegal. After those set Christmas dates, the previous ban on non-essential travel outside Tier 3 areas will be reinstated, potentially until at least spring 2021. To find out which tier you live in, use the government postcode checker. And read more about the details of when will we travel and what the latest lockdown rules mean.When will we travel? What the latest UK lockdown and local tier rules mean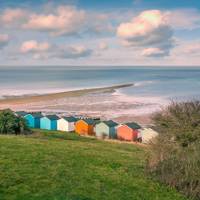 INSPIRATION
When will we travel? What the latest UK lockdown and local tier rules mean
For when you are able to go on holiday, many countries remain exempt from the UK's quarantine rules, allowing travellers to visit select destinations without having to self-isolate upon return to England. That said, entry requirements into other countries and the UK's quarantine rules for what you must do when you return from them still continue to vary as the pandemic situation shifts in each.
See the full list of countries that are exempt from the UK quarantine rules.
Named countries and general rules regarding international travel may be slightly different in Wales, Scotland and Northern Ireland, so it is wise to check the relevant government sites for confirmation. Bearing all that in mind, here is our list of places to consider for a last-minute winter-sun holiday.UK travel quarantine destinations: the latest travel corridors
UK travel quarantine destinations: the latest travel corridors
1. MALDIVESStatus: Upon arrival in the Maldives all visitors must present a negative PCR test for Covid-19, issued no more than 96 hours prior to departure.Where to stay: A private villa or overwater bungalow on a private isle could be the dream for a post-lockdown holiday, which is why the Maldives – a country that relies heavily on tourism – is looking forward to welcoming guests back to its white-sand shores. Stretch out in the secluded two-mile-long Lux South Ari Atoll island, or take in the stars from your bed beneath a retractable roof at Soneva Jani. For more ideas, see our guide to the best hotels in the Maldives.
2. DUBAIStatus: The UAE was recently added to the UK's list of travel corridors, however Dubai is the only emirate where tourists can fly to. Travellers from the UK to Dubai must provide a negative PCR test carried out within 96 hours of departure, or undertake the test at Dubai airport, where, depending on the results, you may be required to self-isolate.Where to stay: As the perfect excuse for some winter sun, we love the private beach-front beauty that is the Mandarin Oriental Dubai. With six restaurants and bars, a kid's club and spa with relaxation pods it's easy to socially distance, stay put and soak up some sun. Nearby the Bulgari Resort Dubai is a low-key luxe stay with its own marina and yacht club, as well as a 25-metre indoor pool, with giddying ocean and city views.GETTY IMAGES
3. CUBAStatus: All travellers to Cuba will be required to have a PCR test upon arrival. Any travellers with a positive test will be required to self-isolate until they can provide a negative test.Where to stay: Not long ago, a stay in Havana meant a choice between a run-of-the-mill government hotel and the spare bedroom in an abuelita's home. Now, a whole new generation of smart guesthouses have come to Havana where you can enjoy a local experience without giving up on modern comforts. See our Cuba travel guide for more tips.GETTY
4. ICELANDStatus: Everyone flying into Iceland must either pay for a Covid-19 test, or self-isolate for 14 days upon arrival. Children born in 2005 or later are exempt.Where to stay: To gain a glimpse of the Northern Lights, takeover this Airbnb cottage located 80 miles west of Reykjavik. The traditional home is surrounded by centuries-old hiking trails, bird-watching at nearby fjords and even some of those famous Iceland waterfalls. For something more lux, Deplar Farm is a super-high-end lodge with its own helipad, spa and indoor-outdoor geothermally heated saltwater swimming pool with its own bar.GETTY IMAGES
5. ST LUCIAStatus: The Caribbean island began unlocking its borders to international travellers on 4 June 2020. UK travellers can visit St Lucia with no quarantine required although all travellers must continue the use of face masks during on island transportation and when in public placesWhere to stay: BodyHoliday reopened to the public on 1 October and Rendezvous opened on 1 November.GETTY IMAGES
6. A STAYCATION IN THE UKStatus: Everyone in the UK is allowed to travel freely between 23 and 27 December (and from 22 December for Northern Ireland). Outside that, with lockdown due to be lifted on Wednesday 2 December, life in England will be under a new three-tier system – so any UK travel depends on the tier that is allocated to where you live, and where you are going. Those in Tiers 1 and 2 can travel within the UK, but not stay in Tier 3. Rules around travel within Ireland, Wales and Scotland will also vary. Please always check the relevant government travel advice before making plans.How to get there: A road trip in the UK is likely to be the safest option. For train and air travel, passengers will be required to wear a face mask.Where to stay: As the seasons change, we've rounded up some of the best winter holiday ideas in the UK. To keep things cosy, see our edit of the best self-contained holiday cottages, Airbnbs and charming log cabins nearby.The 10 top UK winter holiday destinationsINSPIRATIONThe 10 top UK winter holiday destinationsHAARKON
7. CANARY ISLANDSStatus: Visitors from the UK will be subject to temperature and visual health checks upon arrival and must provide the Spanish Ministry of Health with mandatory contact information and any history of exposure to Covid-19 48 hours prior to travel. Also, travellers will need to provide a negative Covid-19 test when checking in to regulated tourist accommodation.Where to stay: If it's your first time visiting and you're not sure where to start, see our breakdown of the best Canary Islands to visit. The classic starting point is Tenerife, the largest and most developed of the islands, offering sophisticated hotels, brilliant food and a rich cultural offering. For a getaway that's off-the-beaten path, look to El Hierro, beloved by responsibly minded travellers for its small-scale, largely family-run enterprises, undulating hillsides dotted with wildflowers and for being entirely self-sufficient with renewable energy.The best Canary Islands to visitDESTINATIONSThe best Canary Islands to visitANA LUI
8. AZORES AND MADEIRAStatus: While mainland Portugal is on the UK's quarantine list, the Azores and Madeira can be visited by travellers from England, Wales and Northern Ireland without having to self-isolate for 14 days. Upon arrival in Azores and Madeira, travellers must supply a negative Covid-19 test carried out no more than 72 hours before travel. Madeira also offers a free Covid-19 test on arrival, for those who have unable to get a test prior to travel.Where to stay: As some of the best destinations for winter sun in Europe, the Azores and Madeira are ideal if you're craving a warm and sunny getaway. In December, temperatures average around 13 to 18°C in the Azores, while in Madeira temperatures average 18°C . This isn't a place just to laze by the pool though. Wild nature runs abundant across both islands with dramatic craters and caverns, rugged beaches, hot springs and lush forests. On the Azores, Sete Cidades Lake Lodge is the perfect place to retreat and recharge on São Miguel.The Azores – Europe's most exotic islandsDESTINATIONSThe Azores – Europe's most exotic islandsANA LUI
9. GREECEStatus: Rhodes, Kos, Zakynthos, Corfu and Crete are currently on the travel corridor list, while UK travellers returning from elsewhere in Greece from 14 November have needed to self-isolate.Where to stay: Greece has one of the biggest population percentages employed in the travel industry, so it's one of the key destinations that will need tourism the most this year. For a low-key stay, we love F Zeen on Kefalonia. One of our favourite smart affordable stays in Europe – Dexamenes Seaside Hotel in the Peloponnese – is also open. For more ideas, see our pick of the best Greek island hotels.The best Greek island hotels for 2020PLACES TO STAYThe best Greek island hotels for 2020DAVID LOFTUS
10. SEYCHELLESStatus: As of 1 October, travellers from the UK have been able to visit the Seychelles, as long as they can supply a negative Covid-19 test carried out no more than 48 hours before departure. Upon arrival visitors must stay in a designated hotel and may not leave the premises for five days. Another Covid-19 test will be performed on the fifth day of your stay. Following a negative test result, visitors will be free to travel within Seychelles.Where to stay: With plenty of private-islands to choose from, staying at one hotel for 5 days in Seychelles is easily done. Take Six Senses Zil Pasyon, for example, where villas resemble super-smart treehouses and grilled fish and fresh fruit are on the daily menu.JULIEN CAPMEIL
11. BARBADOSStatus: Since 3 November UK travellers have had to complete an online immigration form 24 hours prior to arrival in Barbados, as well as supply a negative Covid-19 test taken by a certified or accredited laboratory within 72 hours of arrival. On arrival, travellers will be required to quarantine at a designated holding hotel or approved villa at their own expense, or a government facility free of charge, and undertake a further test four to five days after the first accepted negative test. If this second test is negative you will no longer be subject to quarantine.Where to stay: As quarantine is required for the first four to five days, travellers must stay in a government-approved quarantine hotels and villas. Luckily, this list includes some of the smartest addresses on the island such as Cobblers Cove, Coral Reef Club, The House, Fairmont Royal Pavilion, Sandals Barbados Resort & Spa and Sandy Lane. Depending on the hotel set up, you may be free to use the hotel pool during these days (opting for a private pool is an ideal option), although access to beaches is limited. For the full list of approved accommodation, please refer to the Visit Barbados website.GETTY IMAGES
12. ANTIGUA AND BARBUDAStatus: Travellers 12 years and older arriving by air in Antigua and Barbuda, including those transiting the country, must provide evidence of a negative covid-19 test taken no more than seven days before arrival.Where to stay: Antigua and Barbuda has set up a list of certified accommodations, tours and restaurants that UK travellers will be required to stick to during their stay. In terms of accommodation, travellers can choose from over 30 properties including Carlisle Bay Resort, Curtain Bluff Resort, Hermitage Bay, Jumby Bay Island, Sandals Grande Antigua Resort, The Great House and more. For the full list of approved accommodation, excursions and restaurants, please refer to the Visit Antigua and Barbuda website.
Source: cntraveller.com